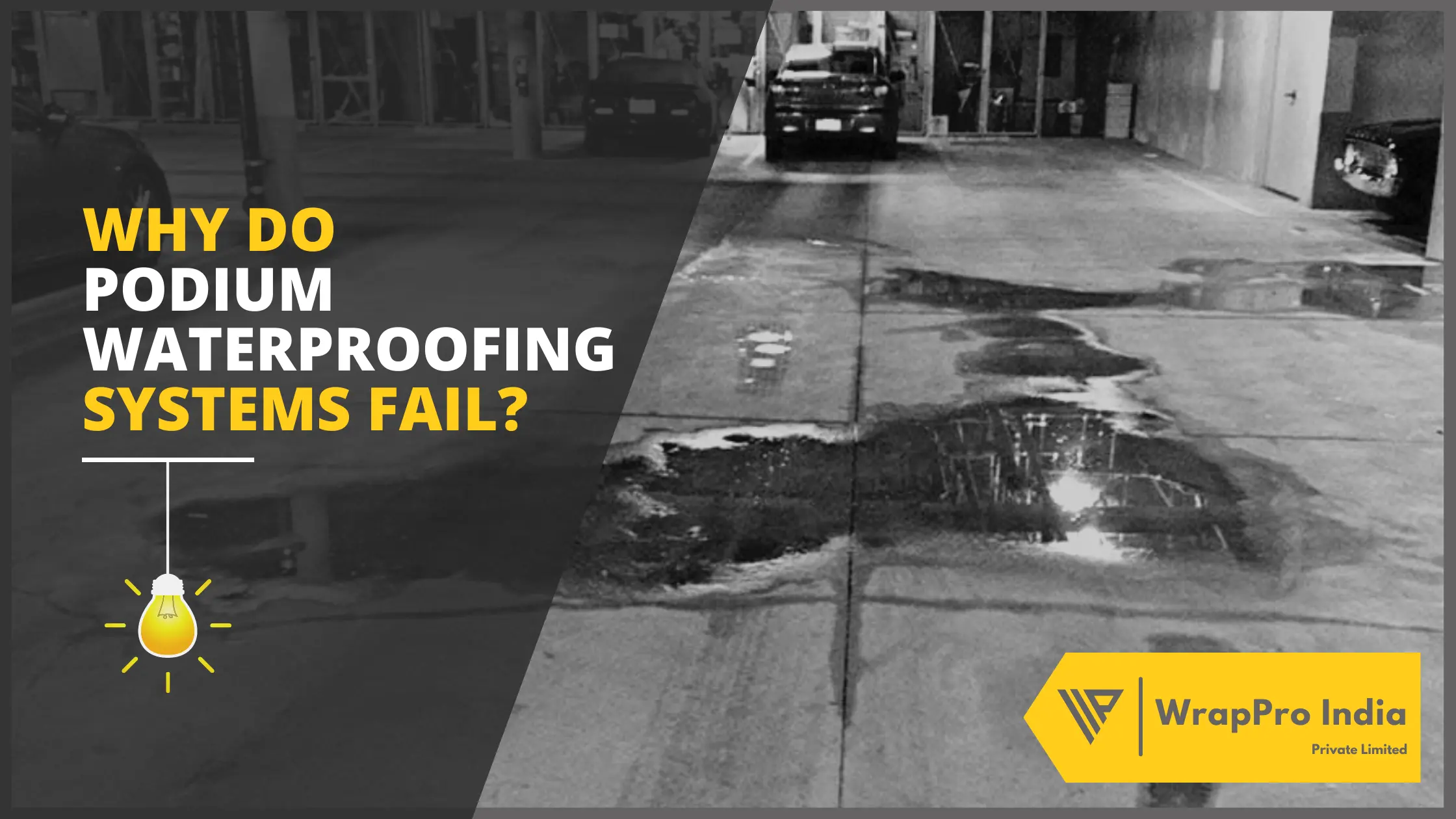 Why do Podium Waterproofing Systems Fail?
The construction of modern high-rise buildings with Podium Deck areas is a growing trend. These areas have the potential to be transformed from underused and functional spaces into attractive features, such as gardens or open spaces that can be enjoyed by the building occupants. Podium Decks can include various elements like car parks, pedestrian and cycling pathways, garden areas, and other public use areas. However, waterproofing these areas presents a unique challenge compared to other parts of the building structure.
Let's look at the major reasons for failures in Podium Waterproofing Systems:
1) Abrasion Load: The commonly used waterproofing membranes are highly elastomeric, which makes them unsuitable for areas with heavy traffic due to their low abrasion resistance.
2) Low Chemical Resistance: In Podium Car Parks, the dripping of car fluids such as oils and fuel can cause damage to the resin-based waterproofing system due to its low chemical resistance properties. 3) Growing Plant Roots: In Podium Garden areas, the roots of growing plants can damage the waterproofing system, leading to water ingress into the podium slab and the areas below. 4) Poor Quality Sealants: One major reason for podium leakage is the use of incorrect sealants. Although expansion joints and transitions cover only about 1% of the constructed area, around 99% of water ingress occurs through these areas alone. Understanding these reasons helps us identify the necessary properties of an ideal Podium Deck Waterproofing System. A good system should possess the following properties:• Abrasion Resistance• Chemical Resistance• Root Resistance• UV Resistance• Water Resistance To address these challenges, there are several solutions available: 1) Polyurethane Systems: One-component, polyurethane liquid waterproofing membranes are cost-effective and ideal for Podium Deck Waterproofing. They create a uniform, elastic, vapor-permeable sealing layer. Compared to other types of waterproofing, cold applied polyurethane systems have excellent mechanical and chemical resistance properties. They provide premium protection against weather conditions, UV radiation, and are also root resistant, making them suitable for green roofs and flower beds. Polyurethane sealants can efficiently seal joints, offering resistance to extreme temperatures, high elasticity, and adhesion to various substrates. 2) Polyurea Systems: Polyurea creates a seamless waterproof film that provides unmatched protection to the underlying surface. Polyurea coatings are highly impermeable, curing within seconds. The coating process is fast and efficient, allowing the surface to be walkable within minutes of application. Polyurea coatings are resistant to abrasion, impacts, corrosion, and chemicals. Moreover, they are solvent-free and environmentally friendly, emitting no volatile organic compounds (VOC). 3) Polyurethane and Methyl Methacrylate (PUMA) Systems (Nascent stage of market penetration): PUMA Systems are designed to have high UV resistance and resistance to petrol, diesel, lubricants, and other aggressive salts and chemicals. They offer impressive abrasion and impact resistance. 4) Methyl Methacrylate (MMA) Systems (Nascent stage of market penetration): MMA Systems create a seamless water-resistant coating with high flexibility and corrosion-resistant properties. They cure within an hour, enabling the usage of the area on the same day. These systems have excellent self-leveling and crack bridging properties. To ensure the longevity, safety, and usability of high-rise structures with podium decks, it is crucial to invest in a reliable and robust waterproofing system. By addressing potential waterproofing issues proactively, building owners and developers can mitigate risks, protect their investments, and provide a pleasant and secure environment for occupants. "Waterproofing podium decks goes beyond mere prevention; it's a commitment to safeguarding modern structures, preserving their functionality, longevity, and the captivating spaces where occupants thrive and forge a connection with nature." We hope this article has provided you with valuable information. If you have a leaking podium or an upcoming project that requires a reliable Podium Waterproofing system, please don't hesitate to contact us.